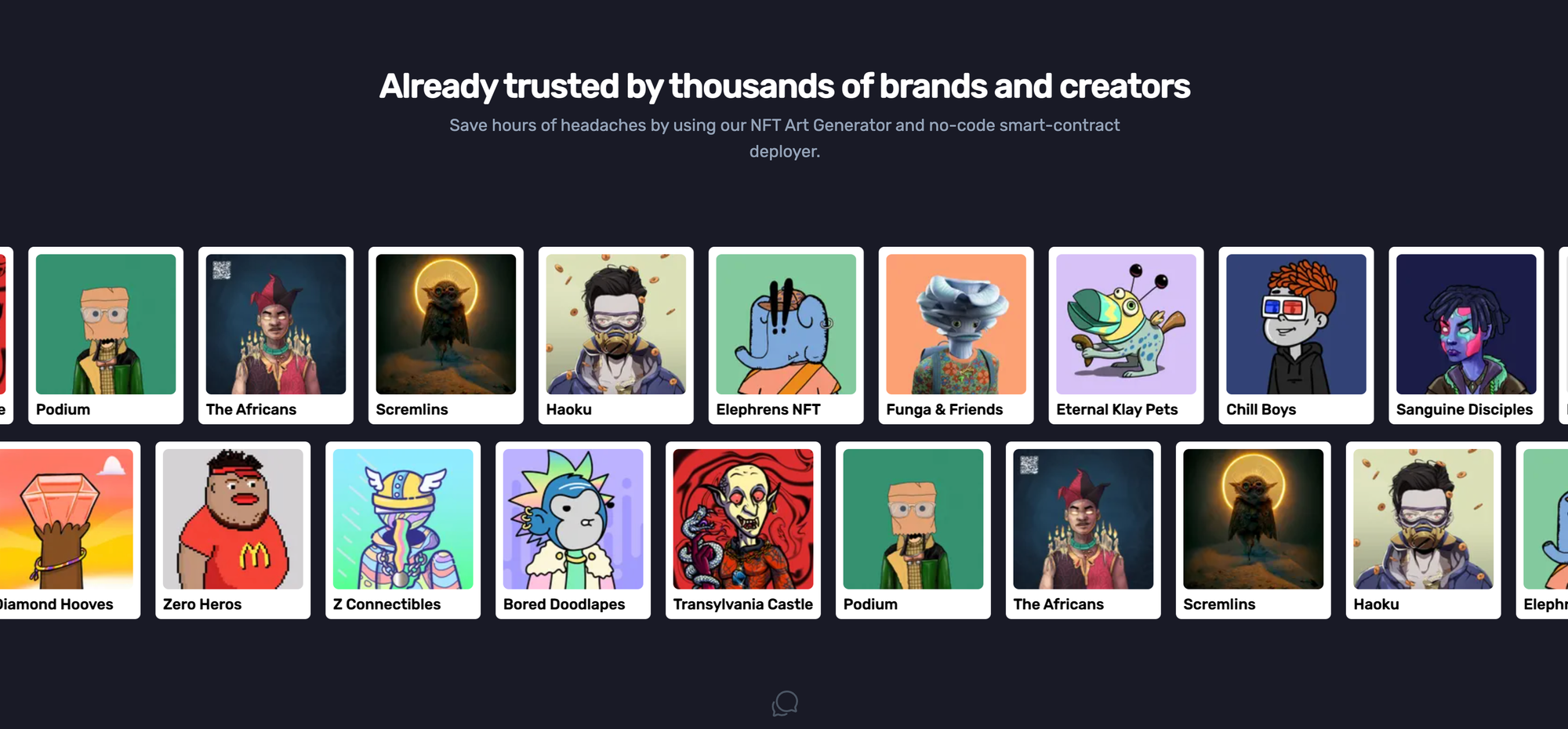 One Mint uses a decentralized technology stack backed by the most robust blockchains to make user-friendly tools for creating NFTs without writing a single line of code.
At One Mint, by relentlessly pushing the boundaries of innovation, we strive to create tools that enable people to build on the blockchain using simple no-code tools. After a year of leading the No-Code space for NFT generation, dynamism NFTs have been added for users to create fully upgradable NFT collections. In this presentation, you will learn more about what these are and how they can change your roadmap model.
1.1) NFTs
A Non-Fungible Token, also knowns as NFT, is a unit of data with an identifier that cannot be copied, substituted, or subdivided, and is recorded in a decentralized blockchain.

The data an NFT contains can be tied to digital images, songs, videos, avatars, and more. In other words, it's a digital means to certify the authenticity and ownership of a specific digital asset and the rights relating to it. However, they can also be used to give an NFT owner access to exclusive merchandise, tickets to live or digital events, or be linked to physical assets like cars, real estate, and much more.

This innovative technology has been around since the early 2010s, but it wasn't until 2021 that it became widely known across the world with the rise of digital art collections such as Crypto Punks, Crypto Kitties, or Bored Ape - where the premise evolved into the trading and of Digital Art. A new digital ecosystem was created. Prior to 2021, two main triggers contributed to the positioning of NFTs as a new digital standard.

The first one with the COVID-19 pandemic and lockdowns, made individuals become more technologically literate and digitally engage with one another on sites such as Twitter and Clubhouse, where the NFT community has established a significant presence.

The second was Beeple. The longtime artist turned into an NFT pioneer when he became the first creator to sell an NFT with a major auction house. When the Christie's auction for his "Everyday — The First 5000 Days" came to a close on March 11 at an eye-popping $69 million, NFTs could no longer be ignored.

While digital art and collectibles made it to the public's ears, there are countless additional applications of NFT technology that also launched around this time and drew attention to the digital space.
1.2) NFT Market Structure
The Non-Fungible Tokens Market size is expected to grow from USD 3.0 billion in 2022 to USD 13.6 billion by 2027, at a Compound Annual Growth Rate (CAGR) of 35.0% from 2022 to 2027.

However, it can't be ignored that the dropoff since June has been swift and harsh – weekly NFT sales and trading volume dropped by 50% in the last weeks of the year's first half. Sentiment around NFTs has dropped along with valuations and activity, with media outlets deriding the sector as a typical hype cycle and many predicting that they will never return.
Data from Crypto Slam shows that the first semester of 2022 ended with a total weekly NFT sales volume of $56 million, roughly the same as January 2021 before NFT mania really took off. However, this masks the fact that NFT trading volume only tailed off in June after a surprisingly resilient first semester.

The major factors fueling the NFT market include the increasing influence of celebrities to fuel the momentum of NFT adoption, revolutionizing the gaming industry, and the slow but continuing rise in demand for digital artworks.

Moreover, increasing use cases of NFT in supply chain management, retail, and fashion, efforts of industry giants toward making Metaverse a reality, and personalization of NFT would provide lucrative opportunities for NFT vendors. This enables the ground floor for development space to come up with innovative initiatives for evolving the NFT technology into real-world solutions.
1.3) Dynamic NFTs (DNFT)
Dynamic NFTs refer to the ability of an NFT to be modified while keeping its traceability on the blockchain. There have been NFTs in the past that were referred to as dynamic - some known examples were NFTs that change colors based on Bitcoin's price or others that changed their image based on the day's temperature. These, however, are only on-chain events triggering changes - the token itself does not ever get modified - and thus the conveyed content is still static.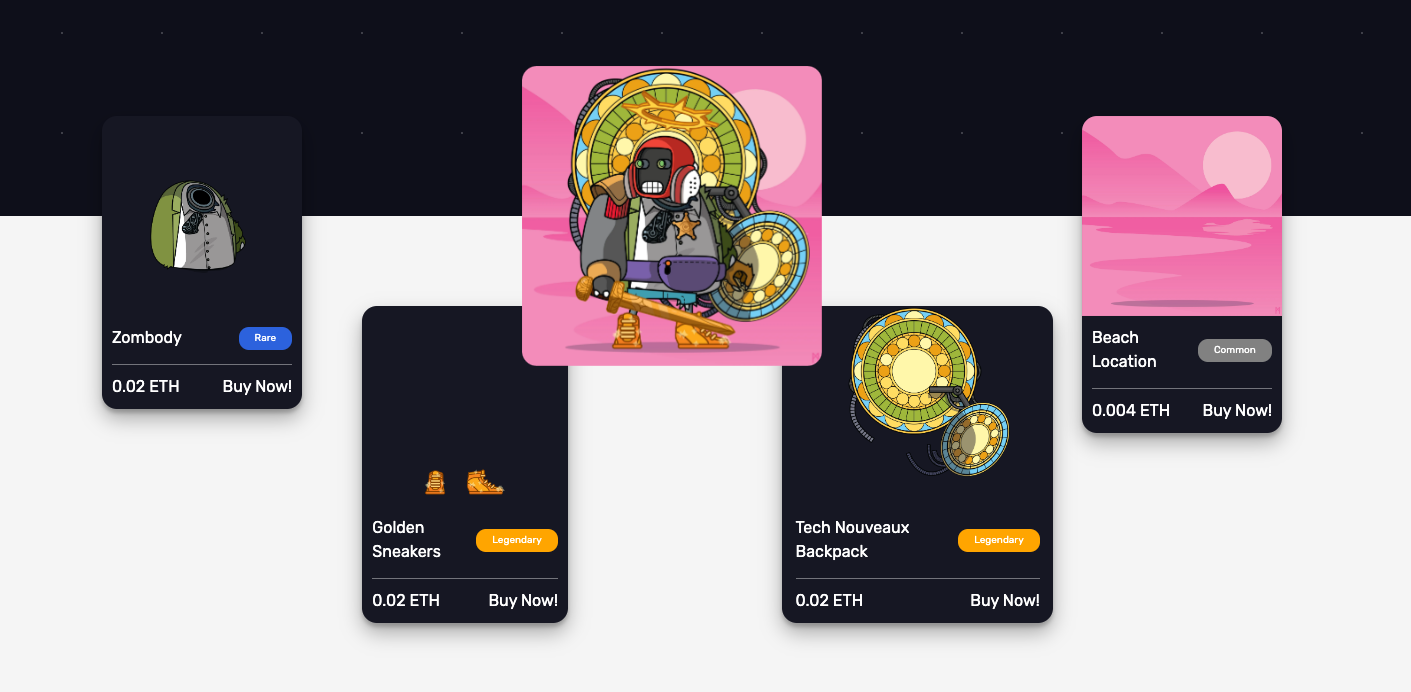 In September 2022, One Mint - the world's first No-Code NFT Launchpad - released its One Mint Genesis (OMG) DNFT collection to showcase a new paradigm for the Web 3.0 ecosystem. The OneMint Genesis collection showcases the technology with the intent to demonstrate what other companies can build.

The premise is simple: our technology allows you to swap or add traits on your NFT token when another NFT is "equipped". All the data is stored on-chain allowing companies to build their own business logic while the assets are generated using our proprietary technology.
Dynamic NFTs are essentially composed of a base ERC-721 token that can have ERC-1155 tokens attached and have a combined set of metadata. This is a shift in how NFT collections are created. Companies are able to create true evolving gaming assets, PFPs with wearables, land lots, memberships, and have any of these be upgraded to higher tier tokens. With this technology, NFTs are able to evolve (literally) as the project grows.
1.4) DNFT Life Cycle
The biggest challenge for brands and creators using NFTs as their roadmap driver has been breaking through the initial offering and generating brand fidelity with their users. Over 80% of projects fail to keep users engaged and compromised the utility or mission provided by holding on to the tokens.

It is thus, that hollow flipping markets arise just to live through a couple of weeks' time - if not days. No incentives or mechanisms are applied for proper sustained growth. DNFT provides the means for sustaining upgradable and scalable growth while keeping decentralized blockchain standards and virtues.
Want to learn how these have been implemented in a real case scenario? Learn more through the first DNFT collection in part 2.