Onemint offers its community a powerful way to generate income through its Affiliate Program. Whether you're a casual user or a dedicated promoter, you can take advantage of this opportunity to earn extra money simply by sharing Onemint with others.

To get started, all you need to do is sign in to your Onemint account using your preferred wallet. This is an important step as it allows you to securely track your earnings and keep your information safe. Once you've logged in, you can easily set up your account and get ready to start earning.

Once your account is set up, you can access the Affiliate tab on the dashboard. This is where you'll find your unique referral code, which you can share with others to start earning commissions. Every time someone signs up for Onemint using your code, you'll receive a 15% commission on all the revenue generated through their use of the platform.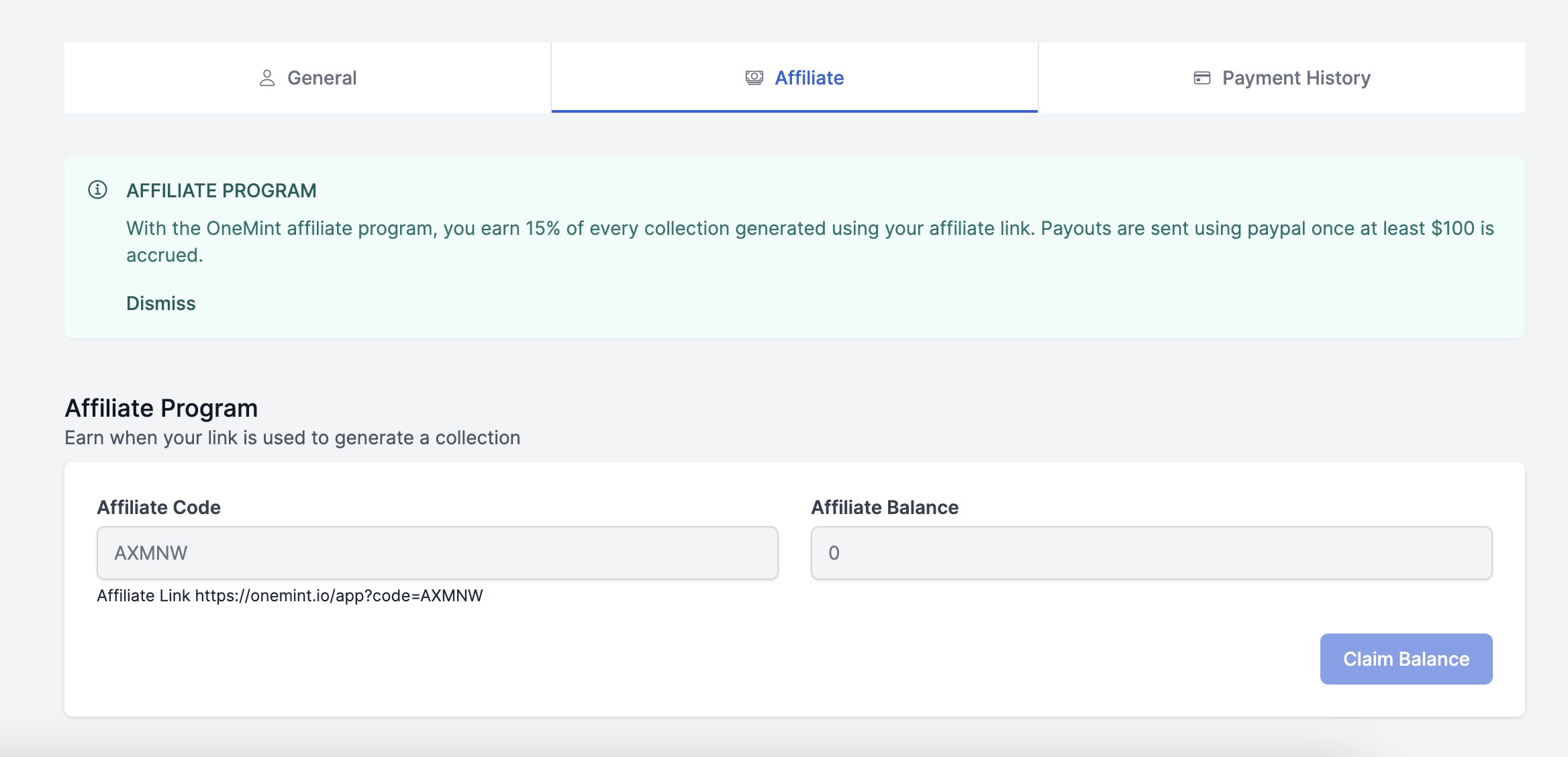 At Onemint, we understand the importance of making it easy for you to access your earnings. As soon as you reach 100$ in balance, you can instantly retrieve your balance through PayPal. This is a fast and secure way to get your earnings into your hands, and there are no hidden fees or waiting periods.

So, how can you maximize your earnings with Onemint's Affiliate Program? The key is to share your referral code as widely as possible. This could mean sharing it on social media, reaching out to friends and family, or promoting it through your own blog or website. The more people you reach, the more potential you have to earn.

Of course, it's important to keep in mind that quality is just as important as quantity when it comes to generating revenue through the Affiliate Program. Encourage people to sign up for Onemint because it's a valuable and innovative platform, not just because they'll earn you a commission. This will help ensure that you are attracting high-quality users who are truly interested in using the platform, and who will generate long-term revenue for you.

In conclusion, Onemint's Affiliate Program is a great way to earn extra income simply by sharing the platform with others. Whether you're a casual user or a dedicated promoter, you can take advantage of this opportunity to generate revenue, build your reputation, and be a part of a thriving community of affiliates. So what are you waiting for? Sign in to your Onemint account today and start earning!